Maths
Why we believe Mathematics is important
At Welbourne Primary Academy, we understand the importance of providing an engaging and enjoyable mathematics learning journey for our pupils. We realise how important it is to equip pupils with the mathematical skills, tools and understanding they need to allow them to excel in a world where mathematics is so prevalent and is around us on daily basis. We aspire to guide and support pupils in securing mathematical understanding in all mathematical subjects, giving them the confidence to apply their learning to real life contexts and other subjects with ease. We make every effort to ensure that all our pupils achieve their potential in mathematics and do so in a fun, challenging, and thought-provoking way. We provide pupils with the skills they need to function in a numerical world, which will guide them on a path to success.
Intent
Our intention and aims are that pupils will be able to:
Apply the calculation methods learnt in lessons (from our calculation policy and then confidently apply these methods to arithmetic, quickly and proficiently.

Understand the fluency of mathematics and be efficient in recalling number facts and times table facts and be able to apply this knowledge to other areas of mathematics and other subjects.

Apply the underpinning principles of mathematics to problem-solving and reasoning.

Articulate answers in a way that uses mathematical vocabulary skilfully, building on previous learning.

Use the fundamentals of mathematics to help pupils reason their answers and apply this to more complex areas of mathematics.
Be confident at using strategies and methods taught to solve problems

Use the skills of resilience and perseverance in mathematics and apply this to all areas of mathematics.

Support their thinking with calculation methods, visual representations to help them solve the problem.

Link the mathematics they learn to real-life scenarios.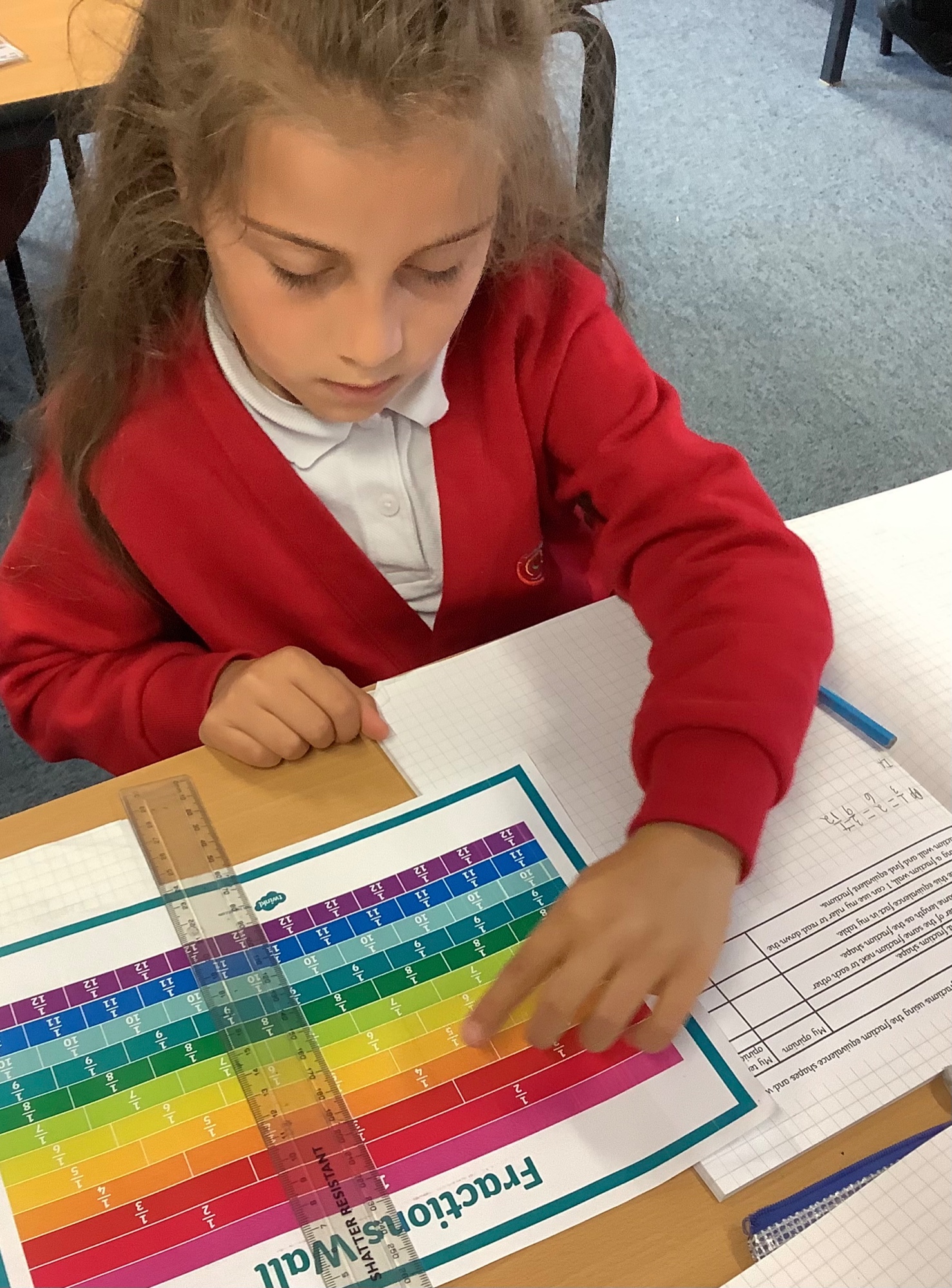 Implementation
The Planning of Mathematics Lessons
Lessons are planned effectively following Mckie Mastery pedagogy as a framework. This means that pupils are grouped by stage, not age which provides an ideal platform for the teaching of mastery in mathematics. It also means every child can be successful and confident in their lessons.
Every sequence of lessons is planned so that there are opportunities for children to apply the fundamentals of mathematics to problem solving and reasoning style questions. Teachers plan mathematics lessons in line with the National curriculum (2013) and planning is discussed, shared and created by teachers, along with the Subject Lead. The planning is based on the White Rose Maths scheme; however it is rigorously thought through and adapted so that it is personalised to our school context and the Power Group taught. Therefore, it makes sure that objectives from the curriculum are planned for and catered for in all mathematics lessons. Expectations are clear and identified by knowledgeable teachers and staff, with the outcomes clearly in mind for pupils' progress.
Each week the teacher reflects on what has been taught:
National Curriculum statements are reflected on to decide on which learning objectives will be of focus in the following week.

The structure, resources, outcomes and expectations of the lessons are clear for that week.

There are planned opportunities to challenge the children in line with the mastery approach to ensure learning is deepened.

The key vocabulary that will need to be discussed in the mathematics lessons will be shared.

The use of any resources (mathematical manipulatives) will be agreed for the lessons, if they are needed for the lessons.
Key areas of mathematics, that need to be revisited are planned for and retaught in an extra lesson or put into the 'Starter for 10's' or arithmetic sessions at the start of future lessons.
Our Mathematics Lessons
Lessons in Mathematics are structured around the Mckie Mastery pedagogy. Each lesson will have a specific Learning objective that will consist of Fluency, Reasoning or Problem-solving and be based around the learning criteria stipulated in The National Curriculum: 'National Curriculum in England, Mathematics Programmes of Study. Key Stages 1 and 2 (2013) as cited above.
Within each mathematics session, Key Stage 1 will complete a 'Starter for 10' and a 'Power Maths' session.

Within each Mathematics session, Key Stage 2 will complete a 'Starter for 10' and 'Arithmetic session', as well as a 'Power Maths' session.
Arithmetic and Starter for 10
For Years 2 to 6, all Power Maths groups have 15 minutes of arithmetic. The learning is tailored to the group depending on the analysis of the weekly arithmetic tests.
The 'Starter for 10' is always recapping what the pupils will have covered before. This enables the pupils to continue to recap, practise and embed the skills that they have previously learnt to ensure they are remembered.
Power Maths Session
As part of each lesson, the Learning Objective is shared and staff will make it explicit how the new objective links to their previous learning to ensure links are being made. The next part of the Approach is 'Modelling' where the teacher models how to achieve the objective. The next stage is 'Guided Practise where the facilitator verbally guides the children through the learning to ensure the children understand the process. Following this stage, is 'Partner Practise which allows the children to support each other in consolidating what they are learning. 'Partner Practise is also important because communication in mathematics is a vital skill to use and we model this as teachers in our mathematics lessons and we hope that in using effective communication (talking about, discussing and proving our answers, working through our problem-solving steps verbally etc), pupils become confident in reasoning and expressing their understanding proficiently themselves. The cycle ends with 'Independent Application' where the children complete challenges independently to ensure the learning objective has been achieved.
Scaffolding in Mathematics
At Welbourne Primary Academy, we adopt an inclusive approach to mathematics. We understand that there will be groups of learners and individuals, who will find mathematics difficult for many reasons. It is our aim to:
Make sure that mathematics is not a barrier for any child, regardless of any Special Educational Needs (SEN) or other needs. For those with SEN, adhering to advice and recommendations from the SEN Coordinator is always kept in mind by teachers and support staff, to ensure that pupils are able to strive to achieve their best and be proud of their achievements in mathematics. Where needed, teachers will consult with the relevant staff members, based on their expertise to make sure that all needs are catered for.

Support EAL leaners in mathematics. Another group of learners, who may need further support in mathematics may be those who do not speak English as their first language (EAL). Again, we endeavour to make sure that EAL learners are challenged, enjoy learning, but are also supported in being able to make progress in their learning in mathematics. A lack of language understanding should not be a barrier to progressing in mathematics. Tools such as ICT, translation tools, mathematical vocabulary and a classroom that shares dialogue and communication to express answers are useful ways we support EAL learners.
Offer support and guidance in lessons in various ways (teaching assistant support, further intervention, group work, peer support, using electronic resources and manipulatives etc). All staff ensure that all learners are being challenged in mathematics.

Ensure that all teachers receive continuing professional development (CPD)/ training regularly in school about how to move on learners in their mathematical understanding and how to deepen pupils' understanding even further.

Ensure that staff understand that they have the power to adapt the Maths Power Cycle to support their group most effectively. For confident learners, it may not be necessary to Guide the children, whereas children who are less confident may need a session working continuously with a partner.
How we measure Impact in Mathematics
At Welbourne Primary Academy, we monitor and measure the impact of our mathematics provision through several ways. We use summative assessment meaning that we use tests. We also use formative assessment which means that we use assessment methods in the classroom such as Assessment for Learning. We constantly monitor and review the progress and attainment of pupils in mathematics. In doing so, this supports teachers in their planning of lessons and to know what the teacher needs to do to support the next steps in pupils' learning. This ensures that children are receiving the very best support and challenge in mathematics.
Summative Assessment
Tests are given to pupils at regular intervals throughout the year. To view impact through these tests, we analyse the test scores and marks gained and are able to identify which areas of mathematics pupils need further support or guidance in. The information we receive from the outcome of the tests (through QLA's) means each teacher knows the strengths and areas of development for their year group, meaning future planning can be adapted. This information is then presented at the data challenge meetings which enables the Mathematics Lead and Senior Leadership team to have a greater understanding of the whole school mathematics strengths and areas of development. This information is used to influence future research and CPD in mathematics, as well as focused themed weeks, so pupils across the school can excel.
Formative Assessment
Not only do we use tests to inform us of the impact of our mathematics provision, we also use formative assessment. This includes: questioning, marking and feedback, observations in lessons, monitoring success criteria, conferencing and end of unit assessments. By using formative assessment in mathematics, we are able to analyse progress in lessons and over time. It also ensures that children are receiving the very best support and challenge in mathematics as we will tailor our lessons to support any gaps in knowledge that the pupils have.
Marking and Feedback
We pride ourselves on our feedback in school for mathematics. It is important to teachers, support staff, children and parents and carers that progress in lessons is visible and clear and also that children know their targets and areas that they need to improve on in mathematics. Children are continually encouraged to go back and reflect on what they found difficult. This is a further way that helps pupils to retain the skill that they have learnt. During pupil conferences, there is dialogue to discuss the areas of strength and development with each child, so they understand their mathematics targets.
Communicating with Parents about their Child's learning.
It is considered extremely important that parents and carers are informed about the ongoing progress and attainment of their child in mathematics. Throughout the year, parents are invited to Parents' Evenings to discuss their child's mathematics learning. At Welbourne, mini reports are also sent home to give the parents an overview of their child's progress. At the end of Key Stage 2, in the summer term, parents receive their child's SAT results, detailing how their child has performed in the Key Stage 2 SAT tests. The teacher assessment for each child is also shared for mathematics. In terms of supporting parents at home with calculation methods and in communicating the arithmetic methods we use in school, the calculation policy is available on the school website. Parents also have the opportunity to communicate with the class teacher via Class Dojo. This platform is also used to communicate homework, that is linked to their weekly learning. Parents are invited to a Parent Information Meeting each year, to learn about the expectations in mathematics for the different stages of their child's mathematics learning journey (Early Years, Key Stage 1 and Key Stage 2) as well as learning about the Key Stage 2 SATs and how they are administered.
Monitoring and Review
In mathematics, monitoring and review of teaching and learning is an ongoing process and this monitoring and review helps to assess the impact of our mathematics provision. The teaching of mathematics is overseen by the Maths Leader (Mrs Underwood) and also members of the Senior Leadership Team. The quality of teaching and learning is assessed by:
Observations
Snapshots
Book looks
Monitoring marking and feedback
Pupil progress reviews
Reviewing performance of year groups' mathematics scores in regular mathematics tests (weekly, half termly, termly).
Discussing with pupils about their learning in mathematics.
Continual CPD for staff and teachers in mathematics, regularly throughout the year.
Governor walks.
If you have any questions please contact Mrs Underwood Maths Lead or email office@wel.education.