Mr Spowage
If you need to leave a message for me please contact through office@wel.education
To help us stay active at home, why not have a go at these fun activities everyday in May. Don't forget to email your class teacher to let them know whether you achieved bronze, silver or gold! Lets see who can get the most medals in May! Good luck.

Cambridgeshire & Peterborough Summer Virtual School Games
Over the next few weeks the Cambridgeshire & Peterborough School Games are hosting a Summer Virtual School Games, lots of schools in Peterborough and Cambridgeshire are taking part. We would love Welbourne Primary Academy to enter and earn lots and lots of points!
This weeks theme, starting Monday 18th May, is Cricket.
On the timetable below there are daily challenges. The idea is that children and their families complete one a day for that week and then send your videos or pictures to either schoolgames@livingsport.co.uk or our local School Games Organiser - Andy Phillips: aphillips@stangroundacademy.org. Photos and videos can also be tweeted to @StangroundAcad or on Facebook by tagging Stanground Academy.
When sending in, tweeting or tagging videos/photos please attach the first name of your child and mention that you are representing Welbourne Primary Academy. You have until 5pm on the Friday to enter your submissions but ideally the organisers would like you to try and enter them on the day!
The emphasis is on fun and participation. However, there is a bit of competition and for every photo/video we send in we earn our school 10 points! At the end of each week they will be choosing an individual winner from each School Sport Partnership area and there will also be an overall school winner. Winners will be announced the following week on social media platforms.
An email has been sent out explaining this competition in greater detail.
So why not have fun trying the activities, take some photos and videos and enter them in to the competition.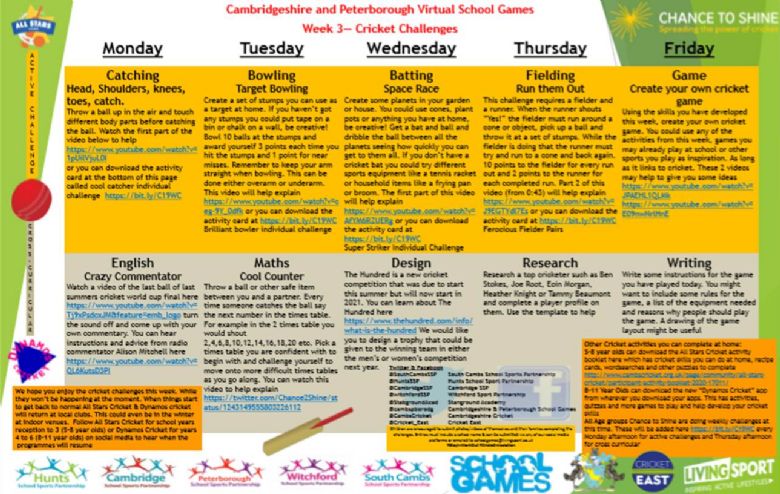 Click on the link below to access the timetable fully, have fun!